3 Advantages of Reshoring Manufacturing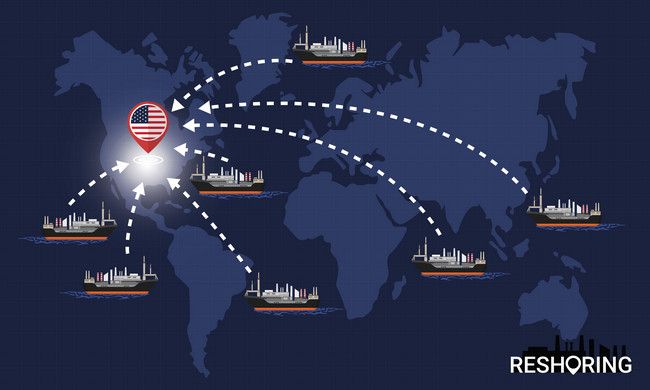 The ongoing pandemic has shattered global supply chains, leading many businesses to consider reshoring to keep their operation effectively running. While supply chain disruptions have occurred in nearly every industry, manufacturing has especially felt the impact of no longer being able to rely on once trusted suppliers.
The sudden unreliability of supply chains has spurred many manufacturers to reconsider whether receiving the bulk of the materials they required from overseas suppliers still makes sense.
In fact, a Thomas Industrial Survey from last April found that 64% of manufacturers are now actively considering reshoring, up 10% from before the pandemic struck.
At Out of the Box Manufacturing, we work with customers who have experienced firsthand the difficulties of trying to maintain their business when supply chains have left them scrambling for parts.
One of our customers, Elliott Bay Engineering, manufactures custom engineered products that help to support electrical utilities, commercial facilities, and industrial manufacturers throughout the U.S.
While many companies experienced a decline in business as a result of the pandemic, Elliot Bay Engineering enjoyed their busiest year to date.
In the past, Elliott Bay Engineering relied on receiving needed components from manufacturers located primarily in China to build their products. With key links in their supply chain now broken, Elliott Bay Engineering needed to find a supplier they could trust to provide the support they required in time to fill an excess of crunch time orders.
Fortunately, our team was able to quickly meet Elliott Bay Engineering's assembly needs so they could fill their customers' orders on schedule.
However, the problems Elliot Bay Engineering faced are not unique. Many manufacturers have encountered similar problems that make receiving needed parts from China no longer the most cost effective option.
Let's take a look at some of the most pressing issues manufacturers have experienced by still relying on oversea businesses as part of their supply chain and how reshoring can solve these same issues.
A Need for Shorter Lead Times
In an age where delivery times are measured in hours, not days, manufacturers are under enormous pressure to fill orders at a speed that was once totally out of the norm.
Digital technology has advanced to the point where customers can place an order on Amazon at night and expect to have their package delivered the next day. This technology has created a customer class that has grown accustomed to receiving their products quickly and without any type of meaningful delay.
Reshoring makes it much easier for manufacturers to avoid costly delays that disappoint their customers, simply as a matter of geography. When goods have a shorter distance to travel before they reach a distributor, there's less of an opportunity for problems to arise. Shorter lead times also help accelerate the sales process and enable more accurate forecasts about when orders can be filled and products delivered.
An Increase in Cost
Offshore manufacturing has long taken advantage of utilizing cheap labor to drive prices down to the point where U.S.-based businesses struggled to compete. However, a variety of events have conspired to narrow that wage gap between overseas workers and those in North America.
China has seen a steady increase in workers' wages over the last decade. In 2018, hourly manufacturing labor costs in China increased to $5.51 USD, nearly a full dollar more than labor costs in Mexico.
The ongoing pandemic has also decreased the number of Chinese workers willing to place their health at risk by going back to work. To lure workers back to their factory floors, China's manufacturers were forced to increase wages up $1,500 USD a month, an increase that's been directly passed along to businesses on the other end of the supply chain.
Transportation costs have also soared in recent years. Right now, the average cost to transport a cargo container from China to California is around $3,000, far above what transporting goods from anywhere in North America would cost.
Reshoring works to eliminate these expensive shipping costs, resulting in significant savings.
A Desire to Avoid Offshore Complications
Working with businesses in China presents unique challenges that offset whatever slight financial advantage manufacturers can receive from using an offshore supply chain.
The specter of intellectual property theft has long hung over relationships between some U.S. businesses and their Chinese partners. The U.S. State Department estimates that Chinese IP theft costs U.S. businesses between $200 and $600 billion a year.
Even when working in a trusted relationship, goods coming from China can encounter unexpected customs issues that generate significant delays.
Businesses have reported surprise tariffs being added to the costs of their shipments that greatly reduce their profit margins.
The pandemic has caused some suppliers to increase their minimum order quantities, leaving businesses with excess inventory they don't want or need.
America's ongoing tariff war with China has caused the price of certain goods to widely fluctuate, making it hard for companies to accurately budget and price their products.
Reshoring offers far more stability and the chance to avoid the type of uncertainty that can cost a business time, money, and credibility.
We are here to meet the demands of your business
The current pandemic has greatly changed how manufacturers do business. Supply chains that were once the reliable foundation on which a manufacturer's business was built have been broken. Just as the team at Elliot Bay Engineering discovered, when customers expect their orders filled, they don't want to hear excuses about why you can't meet their needs.
We can help to fill new gaps in your supply chain quickly and effectively so your business can continue to run at full capacity.
As Dale Lange, owner of Elliot Bay Engineering, had to say:
"We greatly appreciate the work that Out of the Box did for us over the past few months. It was a very busy time for us that was compounded by our customers' end-of-the-year deadlines. Out of the Box was very accommodating."
Contact our team today to discover the difference reshoring your manufacturing supply chain can make for your business.