Women in Aerospace Day Proclamation by Kent Mayor Dana Ralph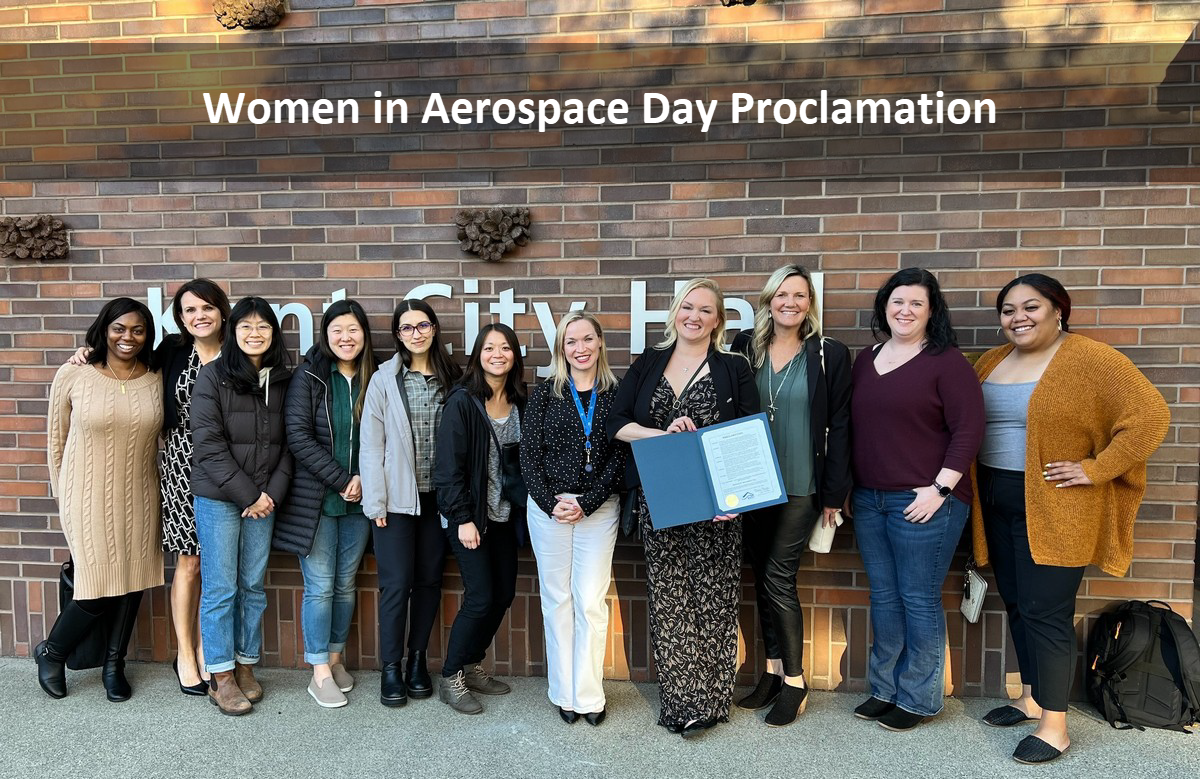 Allison Budvarson, COO of Out of the Box manufacturing recently attended a Kent City Council meeting and witnessed the Mayor deliver the Women in Manufacturing Day Proclamation. Nikki Malcom, CEO & Executive Director of Pacific Northwest Aerospace Alliance, accepted the proclamation. Photo of Women in Manufacturing in attendance: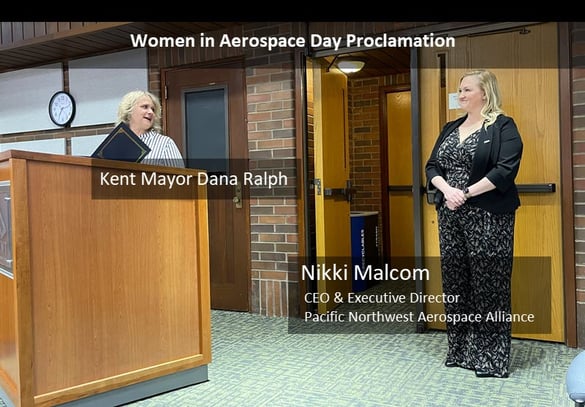 PROCLAMATION
WHEREAS aerospace is a vital economic engine for the city of Kent and surrounding areas, with over 22,000 employed at global leaders across all sectors from commercial aviation to manufacturing and space including Boeing, Alaska Airlines, Blue Origin, and many others; and
WHEREAS while pioneering women such as Amelia Earhart, Harriet Quimby and Bessie Coleman in aviation, and the thousands of women leading aerospace manufacturing during World War II as embodied by the iconic Rosie the Riveter persona have been widely recognized and acclaimed, numerous groundbreaking women have played vital roles in all facets of aerospace as astronauts, engineers, executives, manufacturers, civilian and military leaders and in many other areas; and
WHEREAS all sectors of aerospace face a critical worker shortage, but although women make up 51% of the population, studies estimate women accounted for just 10% of all jobs in aerospace pre-COVID; and
WHEREAS numerous organizations in Washington state and across the country including the Pacific Northwest Aerospace Alliance (PNAA), Aviation Women Inspiring Next Generation (A-Wing), Women in Manufacturing Association (WiM) and many others work to support women in aerospace, create new opportunities and recruit more women to all sectors through a variety of initiatives; and
WHEREAS Women in Aerospace Day was first registered and designated nationally on May 20, 2021 by a female aerospace executive, Nikki Malcom, in Washington state to celebrate the invaluable accomplishments and contributions of women in all sectors including commercial aviation, defense, satellites and space; and
WHEREAS promoting Women in Aerospace Day serves to raise awareness, generate interest and excitement, and increase access among women and girls who might not know of the opportunities available in aerospace; and


NOW, THEREFORE, I, DANA RALPH, MAYOR OF KENT, DO HEREBY PROCLAIM MAY 20, 2022, TO BE
Women in Aerospace Day
In Kent Washington and encourage all residents to recognize and celebrate the critical role women have played throughout the history of aerospace in Washington state and across the country.
In witness whereof, I have hereunto set my hand this 17th day of May 2022.

WATCH AS MAYOR DANA RALPH READS AND PRESENTS THE PROCLOMATION: