Allison Budvarson Provides Her Perspective to the Women in Aerospace Conference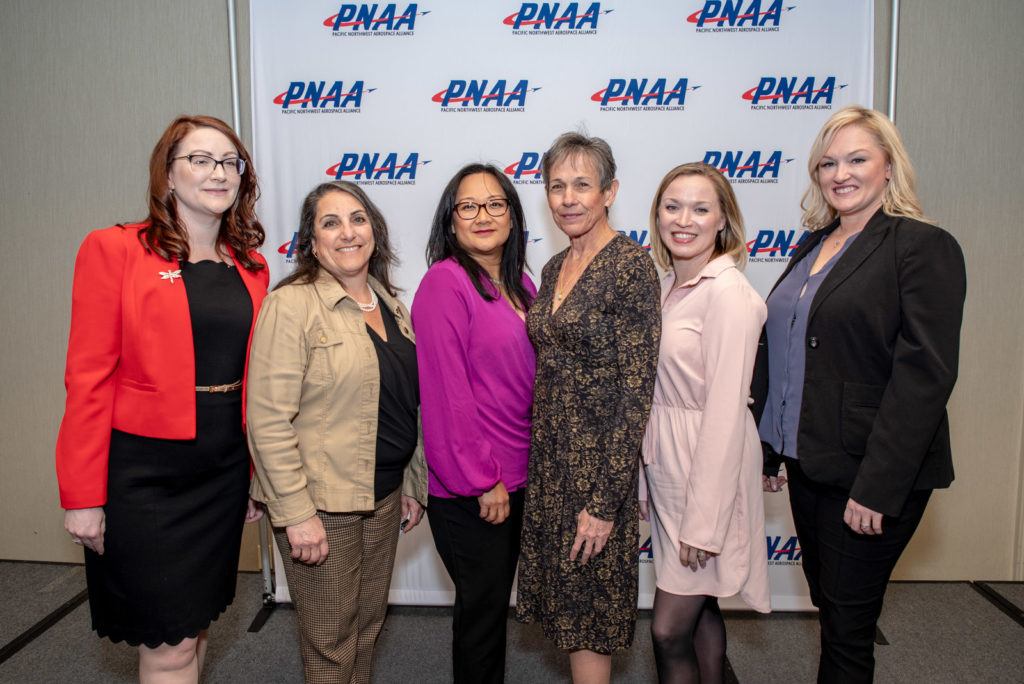 Out of the Box Manufacturing proudly congratulates our co-founder and COO, Allison Budvarson, on her successful speaking engagement as a panelist at this year's Pacific Northwest Aerospace Alliance Women in Aerospace conference. Each year, the Women in Aerospace conference provides attendees the opportunity to hear from some of the industry's most prominent women as they discuss personal and professional development stories, provide insight on the future of aerospace and examine what challenges and opportunities await women going forward.
This year's conference marks the first time Allison was asked to speak as a panel member for the PNAA.
"The panel discussion was based around women-owned or women-led businesses," says Allison. "As COO and co-owner of Out of the Box Manufacturing, I was invited to speak. During the panel we talked a lot about our strategies in leadership, how to handle adversity and what women can do to succeed in leadership roles within manufacturing and technology-based organizations."
As the panel shared some of their own stories, Allison found another woman's advice especially relevant for those looking to improve their leadership skills.
"One of the other panelists talked about leading from a place of experience, and how she has personally done every job in her business at one time or another. This gives her the ability to help an employee out if they were struggling through a process, which she found to be a great leadership strategy for her," says Allison.
As for her own advice to women looking to start a career or business in the manufacturing and technology industries, Allison had this to say:
"Women really need to band together and network relentlessly. It's important to join organizations like PNAA, the Center for Advanced Manufacturing Puget Sound or Women in Electronics, and just spend time communicating with other women in the industry and try to help lift each other up. Once you become a member of this type of organization, you need to join a committee so you get to know the key players, which really helps to accelerate your networking ability."
Reflecting on her own experiences over the years, Allison discussed how much she has personally grown.
"In order to build my business without looking for a lot of investment, I had to figure out how to do a lot of things along the way. I learned that it's okay to not have all the answers when you're first staring out as long as you're willing to put in the hard work and ask for help whenever you need it from those with more experience. I have learned a lot since first starting Out of the Box."
Going forward, Allison reaffirmed that Out of the Box will continue to foster an environment where both women and men will have every opportunity to excel.
"Our management team is currently made up of an equal number of men and women. That's one way we help to ensure that different perspectives are represented at the senior management level. Having a diverse group of people coming together who all bring their own unique experiences and talents really helps in our creativity and problem solving within our organization."
For women considering a career in manufacturing or technology, Allison offered this advice:
"I would like to encourage women in the early parts of their career to seriously consider manufacturing as a career path. Not just female engineers, but also women in operations or purchasing or sales. Ask for training. Ask for that promotion. Ask for an advocate within your organization. There are a lot of opportunities that may really resonate with you."
For speaking at the conference, a donation in Allison's name was made to Girls in Engineering, Math and Science (GEMS) by the Pacific Northwest Aerospace Alliance. GEMS is an organization that encourages 7th and 8th grade girls to maintain and broaden their interest in STEM topics by providing hands-on activities, mentoring, field trips, and information about a variety of fields.