Washington State's New Manufacturing Council Moves Toward Doubling Manufacturing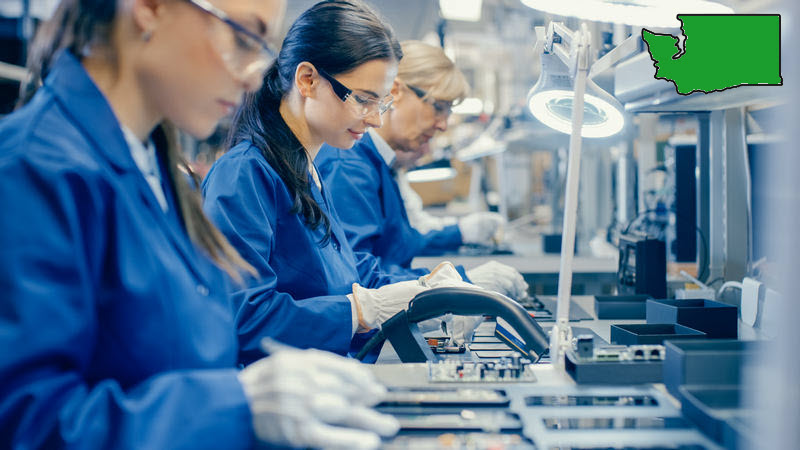 Recently, Washington Department of Commerce Director Lisa Brown appointed a new 21-member Manufacturing Council which will advise on policy, strategies, and investment to grow regional manufacturing sectors and jobs statewide.
Throughout Washington state's history, the manufacturing sector has been a cornerstone of our economy by providing living wages, impactful careers and creating incredible innovation spanning the globe.
The contributions from those on the new council will be critical to the success of the next generation of manufacturing, research and development in our state and will specifically help Washington:
Ensure manufacturing and R&D occurs in every region of the state.

Double manufacturing, small, and women/minority-owned businesses in next 10 years.
The council members
We are grateful for the time commitment volunteered by the new Washington State Manufacturing Council members who are leaders hailing from the private, non-profit and public sectors:
Ted Cummings, United Steelworkers Local 338
Todd Mitchell, Heat and Frost insulators Local 7
The new Manufacturing Council members will be supporting manufacturing and R&D in Washington state. These sectors create living wage jobs, and their regional representation will safeguard a thriving economy which is beneficial to all.
Building economic strength through manufacturing
Substitute House Bill 1170 (SHB 1170), "Building economic strength through manufacturing", was signed into law on April 16, 2021.
This new law creates a Manufacturing Council to advise and consult on a biennial report on the state of manufacturing and R&D, including challenges with legislative remedies.
In addition to the reporting requirements created with the Manufacturing Council, SHB 1170 requires the Department of Commerce to:
Support the development of regionally tailored strategies to facilitate the continued existence and development of manufacturing workforce across the state.

Support regional manufacturing cluster development and job creation, including a grant program to accelerate the development of regional clusters intended to grow living wage jobs in manufacturing and research and development.

The department is encouraged to consider the creation of regional offices or establishing additional duty stations that facilitate sector leads to be located in the regions most dependent on their sector.
The first biennial report is required to address inadequacies/gaps in hands-on skills-based remote learning, in consultation with the Office of the Superintendent of Public Instruction and the State Board for Community and Technical Colleges.
Carolyn Busch, Workforce Innovation Sector Lead, and Sarah Lee, Manufacturing Sector Lead, will be leading this effort for the Department of Commerce
The future
The Building Economic Strength Through Manufacturing (BEST) Act passed by the 2021 Washington Legislature, provides a framework for the state to add 300,000 new manufacturing jobs over the next 10 years. The BEST Act also seeks to double the number of small manufacturing firms and the number of manufacturing firms owned by women and minorities.
Our own Allison Budvarson has committed her time to participate as a council member. Should you have thoughts, ideas, or questions, please reach out to her! Or connect with Allison here on LinkedIn.