Manufacturing Challenges with Procurement Shortages and Supply Chain Disruptions.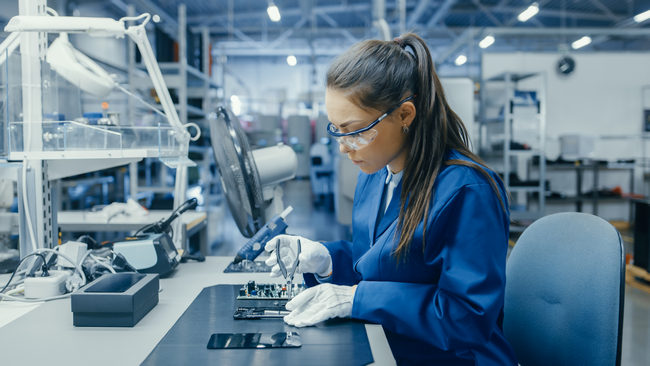 The global market of semiconductors is under stress because of the unavailability of fundamental components for product implementation. Official channels indicate delivery terms (called lead times), are 26 to 52 weeks and uncertain because of availability vs demand. Over the past few years, significant efficiency barriers have made procurement specialists, engineers, designers rethinking typical principles of supply-and-demand.
The key is to stay on top of current trends and anticipate what may come. To have more familiarity with the current perplexing market, we asked our team to do a deeper dive.
Where are the issues? Can we trace them to specific sources? What is the future? Are there short term or long-term solutions?
Today we will share a summary of what we learned. We have included excerpts from excellent resources, videos, and charts to help you understand the seriousness and why it may be time to think "outside the box."


Excerpt from World Bridge Partners:
Supply, Talent Shortages Weigh on Manufacturing Growth
July 12, 2021
The manufacturing sector grew last month for the thirteenth month running, albeit at a slightly slower pace than it had in May. The Institute for Supply Management, in its June report on manufacturing business, lowered its manufacturing PMI to 60.6%.
Results from the ISM's accompanying survey of manufacturing executives revealed that months of persistent growth in demand and accompanying shortages of supplies and talent are weighing on manufacturing's year of post-pandemic growth.
Next to employment, surveyed executives list supply bottlenecks as a major pain point. According to the ISM's latest report, supplier deliveries on average have been getting slower for more than 5 years.
"Supply disruptions continue, with no end in sight!" said an executive working with nonmetallic mineral products. manufacturing companies are under significant pressure to deliver products to satisfy high demand
"Electronic components are by far the biggest challenge," said a computer and electronics C-suite member who said processor shortages have led their company to redesign printed circuit board assemblies to accommodate different components.
Timothy Fiore, chair of the ISM's manufacturing business survey committee, said companies and suppliers are struggling to meet "increasing levels of demand" thanks to "record-long raw-material lead times, wide-scale shortages of critical basic materials, rising commodities prices and difficulties in transporting products." Sluggish hiring, worker absenteeism, and shutdowns due to part shortages, he said, are responsible for limiting manufacturing's current growth potential.
JULY 2021 - A2 GLOBAL'S MONTHLY MARKET UPDATE
ABOUT THE RAPIDLY EVOLVING ELECTRONICS INDUSTRY
A2 Global offers supply chain solutions and sources electronic components. A few excerpts in the report gives us a sense of the trends:
"There is insufficient production capacity. MFR is prioritizing allocation to direct customers. The market is not expected to be relieved until next year."
"There is insufficient production capacity. MFR is prioritizing allocation to direct customers. The market is not expected to be relieved until next year."
"Lead times are stretching. Spot buy pricing for out-of-stock items in market are still high."
"60 weeks or more lead time. There is an insufficient capacity issue from wafer fab for these series. It is difficult to receive a confirmation date for new and existing orders. Spot buy pricing can increase up to 10x. The supply issue is not expected to be solved in 2021."
How did this come about?
Last year, semiconductor producers in March and April, were at the peak of the Chinese lockdown. Factories had interrupted or considerably slowed down their production. The repercussions are being seen now. The pandemic shut down many avenues for raw materials and bulk electronic components, leaving manufacturers with half-finished products and idle capacity. High dependency on supply chains in Asia combined with China being "ground zero" for the coronavirus, shortages affected U.S. manufacturers before the virus hit American soil.
In 2020, two sectors increased the demand for components: electromedical and remote telecommunications.
Electromedical was due to the need of producing devices contrasting the pandemic such as respirators, thermometers, and oximeters.
Remote telecommunications because of how workers changed to work remotely. This required huge investments in technologies.
It appears the semiconductor shortage is now less about the COVID-19 pandemic and more about critical issues in supply chain infrastructure. The semiconductor industry will face further uncertainty into 2022 due to:
Adoption of 5G-based automation
Increased general chip demand
Geopolitical factors (such as the US' current sanctions on China)
These have led to an increased difficulty to deliver fundamental parts for the manufacturers of products containing electronic material.
Consider the recent history of events
A snowstorm in Texas prevented many American companies from producing.
A Japanese semiconductor factory,

Renesas,

was closed following a fire.
Samsung Electronics Co. warned of a "serious imbalance" in the industry.
Taiwan Semiconductor Manufacturing Co. said it was unable to keep up with demand despite running factories at more than 100% of capacity.
The US embargo on large Chinese component manufacturers resulted in plants reducing production.
It is said that the semiconductor market crisis and the chip shortage resulted mainly from inaccurate demand forecasts during the pandemic in 2020. People responded to the pandemic much differently than expected. More thoughts available from TME.
Dependency on a single company
Taiwan Semiconductor Manufacturing Co.'s (TSMC) dominance poses risks to the global economy, amid geopolitical tensions and a major chip shortage
The company makes almost all of the world's most sophisticated chips, and many of the simpler ones, too. They're in billions of products with built-in electronics. TSMC has emerged over the past several years as the world's most important semiconductor company, with enormous influence over the global economy. With a market cap of around $550 billion, it ranks as the world's 11th most valuable company.
Another dependency
Shenzhen – the global capital of the hardware business
"Shenzhen is the global capital of the hardware business: 90% of world electronics is traded there".
Less than 40 years ago, Shenzhen was a fishing village of 30,000 people.
Today, Shenzhen produces 90% of the world's electronics, has a nominal GDP of over 2.2 trillion RMB ($330 billion USD), and is home to over 12.5 million people.
To minimize the negative impact of procurement shortages, and maximize the supply chain process
Reshoring.

Supply chain management issues have exposed vulnerabilities in the "real time" manufacturing mindset that was supposed to improve efficiencies. Reshoring is growing in popularity amongst manufacturers in all industries. There's a decreased risk of potential cybersecurity risks, and overall transportation costs are lower. We can influence our results by bringing supply chains closer to home. Component shortages in the manufacturing process may continue, but on-time deliveries are more likely if supply chains are based closer to end-destinations.


Resolve communication barriers. Lines of communication between a design firm and client is crucial. Your internal team also need to be on the same page as verification and validation, research, design, and other departments. Regular meetings and project milestone reviews keep everyone focused during shortfalls.


A smarter bill of materials (BOM). A dysfunctional BOM process can slow invoicing and ordering. With advanced supply chain tools and resources linked to your BOM, procurement can spend less time on administrative tasks.


Go beyond the current supplier list. You likely have a preferred electronic supplier list. During unpredictable market conditions, more is needed to ensure timely. Align suppliers with current technology and production schedules and you're better able to survive those inevitable procurement shortages. it's imperative to stay connected and up-to-date with electronic parts suppliers. Technological advancements and streamlined ordering systems during lean supply times are important.


Traceable source. With traceable sources, there is a better opportunity to get high quality electronic parts during procurement shortages. Traceable sources enable a supply chain management (SCM) system to reduce ordering errors and compact delivery times.


Scheduled shipping. Advanced e-procurement supply chain systems make possible to get electronic parts for future projects queued up for as-needed delivery. With scheduled shipping, electronic parts are available at a nearby warehouse or distribution center for same-day or next-day shipping.


People development. To build a workforce for the future, now is the time for manufacturers partner with local community and technical schools to support trade programs. Offering apprenticeships and internships that lead to full-time employment should also be considered. They can also assist with developing programs and training candidates on everything from die making and welding to robotics programming and sheet rolling.

To help avoid potential delays we need to work together in an even closer partnership. Please reach out to us anytime. We know the importance of communication during these market conditions.
Do you have thoughts or experiences to share? Please leave your thoughts as a comment below!