Securing Defense-Critical Supply Chains - PSBJ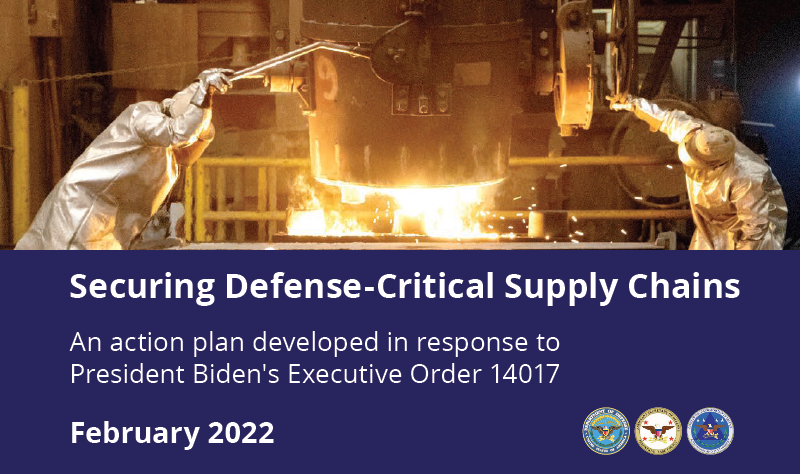 Top national security priorities impacted by procurement challenges are highlighted in a February report by the Department of Defense. The report includes information about missile systems, high-capacity batteries, metals and composites and microelectronics.
It outlined a supply chain resiliency effort that included bolstering workforce efforts, cybersecurity capabilities, manufacturing investments and partnerships with small businesses.
Underpinning all four key focus areas are strategic enablers that are required for mission success. Fragility or gaps in these enablers create operational and strategic risk and addressing the challenges in each is critical to building overall supply chain resilience. The strategic enablers are:
Workforce: trade skills through doctoral-level engineering skills

Cyber posture: industrial security, counterintelligence, and cybersecurity

Manufacturing: current manufacturing practices, as well as advanced technology like additive manufacturing

Small business: the role of key members of DoD supply chains
This report provides a strategic assessment of these focus areas and enablers, as well as the steps that can be taken to mitigate identified threats and vulnerabilities and build resilience.
The 78-page report is extensive with data, sources and graphs. This graph shows world wafer fabrication capacity by country/region: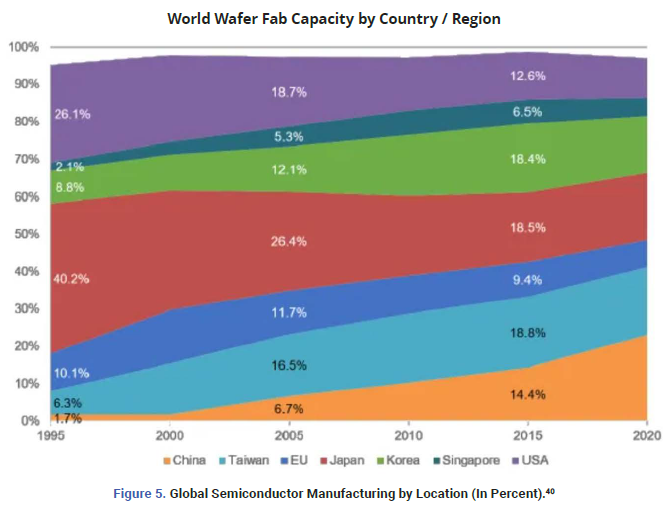 Allison Budvarson's thoughts:
"Challenges have stemmed from a variety of factors around the globe," said Allison Budvarson, our Chief Operating Officer here at Out of the Box Manufacturing.
"A rapid change in consumer spending habits at the onset of the pandemic caused a severe shift in demand for microchips to produce small electronics and connected devices, leaving industrial and automotive manufacturers scrambling to find critical components."
"Climate change also played a role," she said, "With a drought in Taiwan restricting production of the water-intensive products. Pandemic-related shutdowns at factories and ports further compounded delays and shortages."
"The company has had to navigate shortfalls in the past," Allison Budvarson said, and now draws on those experiences to work with its customers' engineering staffs to find alternatives, sometimes from day to day as parts became unavailable.
You can read the full article on
About Out of the Box Manufacturing
Out of the Box Manufacturing employs approximately 65 people in Renton, supplying electronics for customers in the defense, aerospace, medical devices, and rapid prototyping markets.
GET A QUOTE >
About Puget Sound Business Journal
The Business Journals are the premier media platform for companies strategically targeting business decision-makers. We deliver a total business audience of over 10 million people via our 44 websites, 64 publications and over 700 annual industry leading events. Our media products provide comprehensive coverage of business news from a local, regional, and national perspective. We have more people, publications and websites covering our nation's business than any other business media organization. The Business Journals are a division of American City Business Journals.